A dog is deemed to be a "chattel" in law which simply means that it is a personal possession. Sometimes disputes arise over ownership that result in proceedings before the county court. Usually the case is heard by the small claims court who will consider such things as ownership papers, in whose name the dog is registered at the vets, whether it is micro-chipped to anyone etc. The court will then make a ruling on ownership and, if appropriate, an order for the dog to be returned. The procedure in the small claims court is designed to be quite user-friendly in the hope that claimants will be able to conduct their cases without a solicitor. The ability to claim back legal costs is also limited.
The general law of contract applies to the buying of selling of dogs and it is up to the buyer to be satisfied that the dog they are buying is a healthy dog. It is important to research your breed carefully as most breeds have certain health defects that the breed is prone to and the breeder should have had proper health checks carried out to ensure that the dogs are not suffering from any such defects. More protection is available for the buyer if the breeder sells the dog in the course of a business or if the dog is misrepresented in some way.
A house has planning permission for use as a private dwelling house for people. If you keep a large number of dogs on the premises the local authority may decide that a change of use has taken place and invite you to reduce the number of dogs you have on the premises or apply for a change of use (which may or may not be granted.) As a rule of thumb any more than 6 dogs could present a problem but there is case law where larger numbers have been allowed. Much depends on the size of the dogs and the way in which they are being kept.
Dog Barking Complaint: Noise Abatement Notice
---
Barking is a natural thing for a dog to do but it can be a problem if your dog barks incessantly or at an unsociable time of day. If a complaint is made to the local authority you may find yourself being served with a noise abatement notice requiring you to take steps to resolve the problem. Usually the situation will be monitored (either by neighbours keeping a noise diary or by monitoring equipment being installed in a neighbour's house) to see if it improves. If all else fails you may be prosecuted under the Environmental Protection Act 1990 which could result in a heavy fine.
Claims for injury or damage
---
You could be liable if your dog causes injury to a person or damage to property. You are particularly at risk if the incident arose as a result of negligence on your part or if your dog had behaved in a similar manner on a previous occasion. If your dog's dangerously out of control, you will be asked to provide details of previous incidents and to provide the veterinary records for your dog. These claims can be very expensive to defend if you do not have insurance. We recommend all our clients to take out third party liability insurance.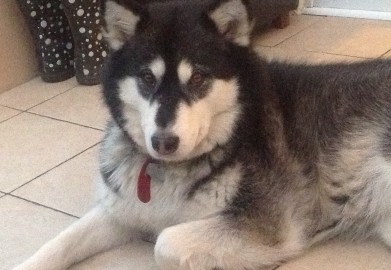 Case study - Ella
Ella caused quite a serious injury to a young child but no-one saw what happened. By adducing expert evidence the court were persuaded that the injury had been caused accidentally and not as the result of a deliberate dog attack. Ella is now subject to conditions that she is kept on a lead and muzzle whenever she is in a public place.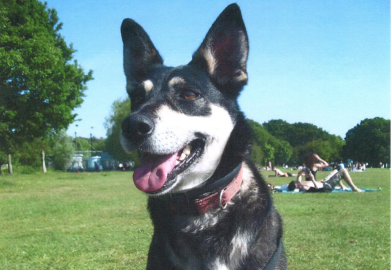 Case study - Pepita
Pepita was alleged to have been involved with 4 other dogs in a fatal attack on an elderly woman. By calling evidence from an expert animal behaviourist and a forensic odontologist we were able to convince the court that Pepita had not been involved in the attack.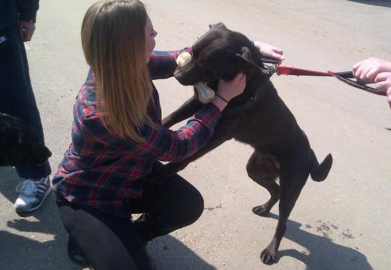 Case study - Bella
Bella was handed into a rescue centre while her owner was away. The rescue refused to return her so legal action was taken against them. This picture captures the moment when she was returned to her owner.
There are no words that can describe the thanks I have for you.  Monty means more than the world to me for reasons you know and the past 10 months have been awful, but when I met you and had you on our side I always knew there would be hope that the worst would not happen.  Thank you for everything you have done for me.
I really want to thank you from the bottom of my heart.  I really do appreciate all the hard work you put into helping me get Simba back… thank you very, very much.
A big THANK YOU to you all for your help and advice – it was much appreciated throughout a very difficult and stressful time.  And an especially big thank you to Tina Hay for all your legal wisdom – I think you should be known as 'The Fairy Dogmother'.
From the initial contact with Gareth which was knowledgeable and sympathetic to Kate at the court, who was excellent – well presented, knowledgeable and very informative – she presented the case superbly.  Many thanks to all concerned.  A very professional company.
I cannot thank you enough for all your help.  I am so fortunate that you happened to be there.
Fantastic!  All staff were polite, understanding and compassionate.  Tina Hay is amazing!  Everyone at Wheldon Law is absolutely lovely!
I would and will happily recommend your services to any person and/or organisation.  Thanks to you guys my dog is safe and back home.  Thank you so much.
I would like to say a BIG thank you for all your help with getting my dog Amy back.  Tina, you're the best, thank you.