Lights, Camera, Action – Modern Policing
Police forces across England and Wales are preparing for a rollout of 'Body-worn Cameras', and the government has announced that prison officers will shortly be assisted by this new technology.
What are Body-worn Cameras?
BWCs are small recording devices, very similar to a GoPro, which allows for constant audio and video recording in an unobtrusive manner.
The evidence from these cameras can be used to support a prosecution, and some argue that with officers and others aware that their actions could be caught on camera, it will result in a positive effect on behaviour.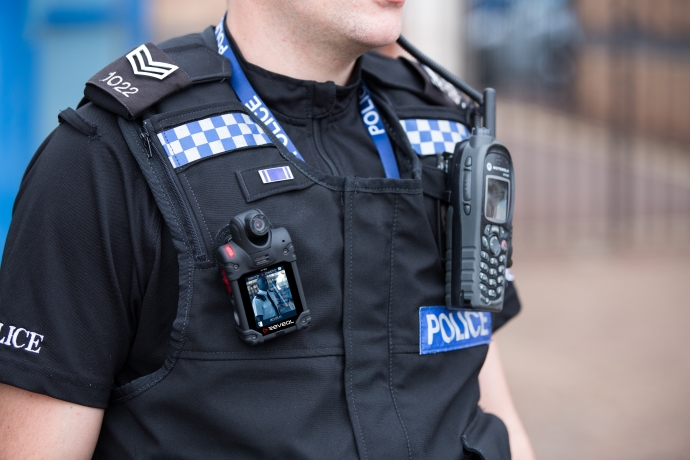 Is behaviour calmed when a camera is present?
It is usually accepted that we behave better when being watched, for example, we are less likely to speed past a roadside camera or get involved in unlawful activity.
In 2011, researchers at Newcastle University posted pictures of a pair of male eyes and the caption, "Cycle Thieves: We Are Watching You." Bike thefts decreased by 62 percent in those locations — and not elsewhere.
A study in Rialto California (USA) in 2012 appeared to show dramatic changes in police behaviour. Complaints against police officers were down 90% compared to the previous year. Critics, however, have been sceptical of this study, in part because only 54 officers participated.
That caution did not result in a slowdown of BWC deployment and by 2015 95% of US large police departments had deployed BWC or had committed to doing so.
Now, police forces in England and Wales are following suit.
Latest research
The Rialto findings seemed to accord with common sense, but a new 18-month study of more than 2,000 police officers in Washington (USA), published on 20th October has disclosed 'almost no effect' on police officer behaviour.
Are BWCs a waste of money then?
This is a controversial question, and there may be many reasons for the Washington findings.
Other arguable benefits of BWCs are:
Detecting rogue officer behaviour after the event

Accurate recording of evidence

Building community trust in the police – In another new study that will be published in the November 2017 issue of the journal Policing, researchers interviewed 249 people who had recent encounters with officers wearing cameras. Those who were aware of the cameras perceived the encounters as more "just" than those who were not.
Conclusion
It would appear that the jury is out as to the efficacy of BWCs, supporters claim that there are definite benefits for both police and public, while detractors cite privacy concerns, sizeable public expenditure and a lack of cogent evidence to support their continued deployment.
What is clear to us is that we see the evidential worth of cameras in an increasing number of cases. Such evidence must, however, be analysed carefully, so as not to fall into the trap of believing that 'the camera never lies'. We often find that video evidence is taken out of context, is distorted, edited and on occasions when it might be thought helpful to the defence, goes missing.
Contact Tina Wagon on 01442 242999 or tina@wheldonlaw.co.uk if you would like to discuss any criminal law issues.